38th Annual Vancouver Pride Parade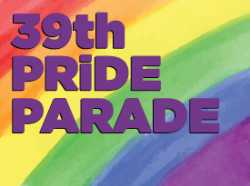 When:
Sunday July 31 at 12:00PM

Where:
West End, Vancouver


About:

Presenting Partner
---
The Vancouver Pride Parade takes place on unceded Musqueam, Squamish and Tsleil-Waututh Territories.
Join us for one of the most beautiful and diverse parades in the world. The Vancouver Pride Parade was granted civic status in 2013 and is one of the city's flagship events! Attracting major crowds every year, the Pride Parade is renowned on the international stage as one of the largest and most successful LGBTQ2+ events in the world.

Come down for the hottest day Vancouver has all year, but don't forget to bring your sunscreen, hat and water! Temperatures run high on Parade day, so keep out of the sun and stay hydrated!
Parade Theme
The 2016 Vancouver Pride Society announced the theme for this season will be "Better Together". For many members of the LGTBQ2+ community, isolation is a very real issue. Without family support or a network of friends, life can feel extremely difficult. When we stand together, support each other and believe in one another, it makes everyone stronger. Through a human rights lens, when we band together, we have the power to affect positive social change and carve out space for each of us to celebrate who we are. It's definitely...better together.
Pride Grand Marshals
These are who starts the parade. These remarkable individuals represent an inter-generational and international perspective on Pride and shape its spirit with their passion for equality.

Local Hero: Danny Ramadan
National Hero: Morgane Oger
Role Model: Alex Sangha
Posthumous Hero: Charity St. Peters
Stay Safe at the Parade
Please stay off road - let marchers come to you to get free swag.


No spraying water or throwing object at entries. Their costumes and sound equipment is very expensive.


Recycle please! Use recycling and garbage bins provided around the venue. Help our event become zero waste!


"Plan your Transit route to the Parade" - Parking along the Parade route is extremely limited so leave your car at home and take transit to the Parade.


Open alcohol is prohibited on streets and parks so leave it at home. Come to the beer garden at Sunset Beach after the Parade and have a toast with us.


Remember to practice sun safety by wearing a hat, applying sunscreen, and staying hydrated!


Take all pictures from the side of the road please!